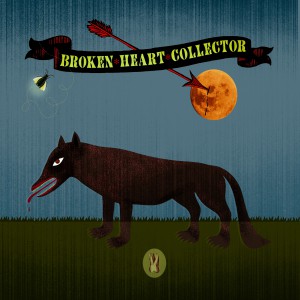 BROKEN.HEART.COLLECTOR
Broken.Heart.Collector
Sep 16th 2011 | DISREC18 | CD/DL



---
---
Info
01 Love Reclamation Song
02 Another Heart Bites The Dust
03 The Average Weight Of Love
04 Eisenwalzer
05 Get The Dog
06 Boatwischmusik
07 Eckig
08 …
09 Cestni Crv
10 Wolves
For Broken.Heart.Collector five champions of undefined paths join forces, having found what was meant to be found – each other:
Slovenian vocal artist and bass flutist Maja Osojnik, well versed in traditional Slovenian folk songs, pop & avantgarde, as well as black metal grunting, performs in various different outfits (Rdeca Raketa, Maja Osojnik Band, FruFru, Subshrubs); Bass clarinetist Susanna Gartmayer known from the manifold domestic improvisation scene; and there is also Bulbul – the Austrian superband, for years utilizing the classic rock line-up and pushing it beyond its boundaries, releasing conceptual field-recordings and blowing up the most profound pig-rock-smasher in the spheres of the impossible.
"Broken.Heart.Collector" is an intoxicating stream of lava, guides along The Cabinet of Dr. Caligari, unnoticably passing owls whistling 'good-night's' and wobbling shadowrealms dragging into disco beats. Suddenly you are on an overwhelming trip in the desert with Alejandro Jodorowsky, gliding through agravic spaces and oversized soundscapes above which rattling chains and twittering iron can be heard. There's squeaking and rattling until steel string guitar, driving bass, tricky drums and a hell of a clarinet trim it all into bruitistic layers finally mutating into an undertow-like groove.
Broken.Heart.Collector take your hand into unknown territory where you'll meet pulsating heart-shaped jelly-puddings, drifting speaking pyramids, slowly rotating satellites, light beam transmissions from far dimensions and tongue in cheek grinning organists whos' cylinders have eyes blinking mechanically through the bizarre orbit.
Kudos
Recorded at Goon Studios, Linz
Mixed by Ollmann at Feedback Studio, Vienna
Mastered by Bo Kondren at Calyx, Berlin
Artwork & Layout by Mackie Osborne
Vinyl available at Rock Is Hell
Videos