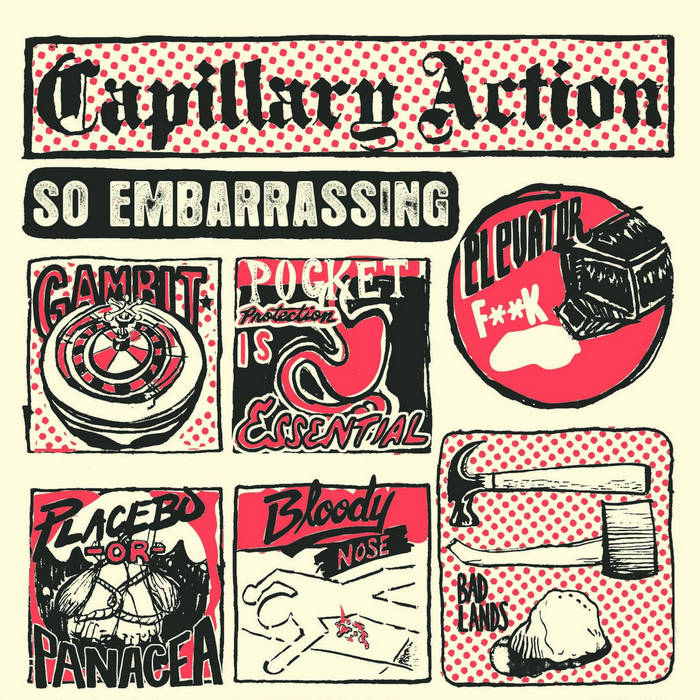 CAPILLARY ACTION
So Embarrassing
May 1st 2009 | DISREC09 | CD/DL
---
Info
01 Gambit
02 Pocket Protection Is Essential
03 Elevator Fuck
04 Placebo Or Panacea
05 Bloody Nose
06 Badlands
07 Paperweights
08 Father Of Mine
09 The Chaperone
10 Sexy Koala
11 Self-Released
Capillary Action spent three years crafting So Embarrassing and this painstaking attention to detail is evident at every turn: Austere structures develop from seemingly chaotic forms, melodies burst out from each nook and cranny, morphing into dense walls of sound and back again. The whole affair is executed with pinpoint precision by mastermind Jonathan Pfeffer and his band (plus a ton of guest musicians).
So Embarrassing is a prime showcase for Pfeffer's ever-growing bag of compositional tricks – Free Jazz horns and Brazilian rhythms intersect with sweetly crooned vocals and the ferocity of the Dischord- or Ipecac roster – squashing hopes that these songs will ever sit still and do what you expect; they bend, stretch, fall apart and come back together, only to fall apart again. In addition to a more sophisticated musical approach, the lyrics explore deeply personal topics in cryptic and blackly humorous ways.
While a lot of so-called 'avant-garde' music employs esoteric musical elements as experiments unto themselves, So Embarrassing's unusual structures and arrangements help push and support the difficult themes of the songs' lyrics. So Embarrassing represents having the courage to walk straight into an uncomfortable situation and risk everything to say what needs to be said. By not being afraid to express the taboo, this music pushes listeners to confront their own struggles with a unique approach: A philosophy of embarrassment as a means of personal growth.
Kudos
All Music & Lyrics by Jonathan Pfeffer
Engineered, Mixed, and Mastered by Colin Marston
Personnel:
Jonathan Pfeffer- Vocals, Guitars
Spencer Russell- Bass, Backing Vocals
Ricardo Lagomasino- Drumset, Percussion
Kevin McHugh- Keyboards, Backing Vocals
Zachary Crystal- Percussion
Guests:
Johnny Butler- Saxophone
Matthew Nelson- Saxophone
Andy Hunter- Trombone
Ryan Snow- Trombone
Jeffrey Young- Violin
Jessica Pavone- Viola
Caleigh Drane- Cello
String and Horn Arrangements:
1, 3, 6, 7, 8, 9 by Jonathan Pfeffer
2 and 11 by Kevin McHugh
4, 5, and 10 Kevin McHugh and Jonathan Pfeffer
Percussion Arrangements on 4 and 7:
Ricardo and Lagomasino and Zachary Crystal
Videos
Press
"A kick upside the head is probably less jarring than 'So Embarrassing'. Singer, guitarist and mastermind Jonathan Pfeffer injects Mike Patton-worthy weirdness and Battles-level complexity into the band's hyper-melodic, jazz-lacerated music." THE ONION AV
"Pfeffer's even, baritone vocals add a strong melodic center for the listener
and the instrumental freakouts in context. 'So Embarrassing' is a bold change
in direction for Capillary Action, but one that pays off." PITCHFORK
"Capillary Action harness the power of the best of Zappa's more rocking efforts, combining excellent jazz chops with punk energy, making complicated arrangements sound natural." EXCLAIM
"A bastion of avant-rock futurism." THE STRANGER
"A gem of an album from a band that abides by a musical manifesto that is
miles above and beyond the norm." ALL ABOUT JAZZ
"Call it 'experimental rock' if you must, but 'So Embarrassing' is way past the experimentation stage. Capillary Action knows exactly what it's doing." PREFIX MAG
"No matter how many times 'So Embarrassing' is played,
you will never hear it the same way." DELUSIONS OF ADEQUACY
"'So Embarrassing' is an album that will continue to reveal secrets
long after the rest of your record collection has blown its load." SOUND AS LANGUAGE
"Thrilling maximalism that has me rubbing my hands with glee straight away." ORGAN MAGAZINE