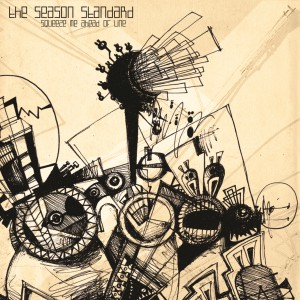 THE SEASON STANDARD
Squeeze Me Ahead Of Line
Jul 11th 2008 | DISREC07 | CD/DL
---
---
Info
01 A Seadog Grotesque
02 The Water Fellow
03 12 Inches Nose Makes Disco
04 Kaira
05 Makkk
06 Xylan
07 Tisa
08 The Sheep Sheep
09 Super Push
WHAT A POSTMODERN MESS!!!
The Season Standard. 4 young Berliners – without child prodigy background, without jazz education, without fashion understanding, without stylists, without industry in the nape – casually outshining every progressive band, fooling every rock group, lapping every electro-guru unintentionally and besides having the ability to entertain entire Las Vegas… unwashed and without fresh panties.
The 9 masterpieces on "Squeeze Me Ahead Of Line " have been produced by Markus Reuter (Tuner, centrozoon) and were mixed by Fabio Trentini in the Horus Studios Hanover, Germany. A prominent guest appearance is to be registered on the balladesque "Tisa ": Trey Gunn (King Crimson) on the Touch Guitar. This all star team is joined by Denis Blackham, who mastered this album in Scotland and already has given artists like Led Zeppelin, Jimi Hendrix, Talk Talk, Fennesz or Yes fine-tuning in their sound.
Kudos
Written and performed by The Season Standard
Produced by Markus Reuter
Mixed by Fabio Trentini
Mastered by Denis Blackham
Artwork by Semiotext and Mathias Jähnig
TSS are:
Mathias Jähnig (voc/g/fx)
Daniel Scherf (g/fx)
Simon Beyer (dr)
Robert Koppisch (b)
Guest:
Trey Gunn (touch git)
Videos