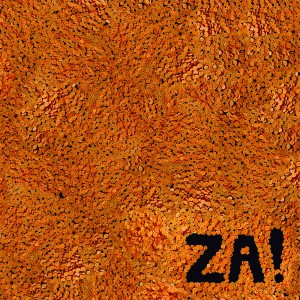 ZA!
Wanananai
May 10th 2013 | DISREC23 | CD/LP/DL



---
---
Info
01 Torrefacto Wagneriano
02 Gacela Verde
03 Gran Muralla China
04 Chinaloop
05 Súbeme el Monitor
06 El Calentito #1
07 El Calentito #2
08 El Calentito #3
09 Mr. Reality
10 Singapore Aurlines
11 Singaloop
12 Hotto!
13 Hottero!!
14 Hottesto!!!
15 Cha Cha Cha
16 Tueste Natural
Two people in front of your eyes, yet a transoceanic, futuristically primitive orchestra in your ears. Spazzfrica Ehd & Papa duPau, the duet from Barcelona known as ZA!, keep on their Post Worldmusic conquest with their best album so far. WANANANAI…
Always acclaimed by their intense ever-changing live sets ZA! have recorded an album that stands for their shows and will even surprise their fans with new sonorities and beats. Almost 60 minutes of unrelenting and rhythmically wicked music hard to label: Battles being more organic? Lightning Bolt being more harmonic? Animal Collective being more aggressive? Steve Reich being less serious? Yes, maybe.
WANANANAI is a compendium of genres hard to imagine and hard to explain without the listening experience. ZA! have extended their musical spectrum, adding Cuban jazz vibes mixed with post-rock ("El Calentito"), Jamaican dancehall mixed with grunge ("Súbeme el Monitor"), intelligent dance music mixed with industrial noise ("Tueste Natural"), or balinese melodies mixed with Black Sabbath ("Cha Cha Cha"). They even dare to perform a hip hop song ("Mr.Reality") that could fit in the first albums of A Tribe Called Quest. And what is more suprising: This all seems to make sense.
Since the release of their previous album "Megaflow" (2011) ZA! have participated in all kinds of music festivals (they are Primavera Sound favorites participating in four editions of the festival, Sónar Festival favorites participating in the Brazilian & Barcelona editions, SXSW, CMW Canada, Fusion, Eurosonic Festival, Skif Russia, Kilbi, Trans Musicales), with all kinds of bands, always with an excellent reception by the international press. WANANANAI – the fourth album in their seven years career – will be released by ZA!'s own label Gandula and Discorporate Records in Europe. The duet has also designed all the artwork (all the text characters are figures made by their own bodies!).
WANANANAI is a statement of freedom, an hour of music that proves that experimental music can be euphorical, intense, fun, headbanging and even danceable sometimes. The instruments in the recordings are numerous: drums, guitar, keyboard, trumpet, voices, sampler, percussion. All processed through many analog effects, recorded live loops, and played just by 2 people: Spazzfrica Ehd (drums, keyboard, percussion, voice) & Papa duPau (guitar, trumpet, sampler, voice).
All of this has been done so far. But in times of conformity, world economic threat and general fear of the future, those who call themselves ZA! have thought that the most reasonable thing is to risk it all, even more. The music in WANANANAI and the way of releasing this album is the proof of it. Quit your dayjob, make music.
Kudos
Spazzfrica Ehd (drums, keyboard, percussion, voice)
Papa duPau (guitar, trumpet, sampler, voice)
Recorded & Mixed by Santi Garcia at Ultramarinos Costa Brava
Mastered by Victor Garcia
Artwork by ZA!
Released in cooperation with Gandula
Videos
Press
"Creativity without fanfare. Impromptu experiment. What is the secret of Za!'s Sound?" EL PAIS (Click link to watch an awesome live session!)
"Macht euch bereit für 52 Minuten 'So geht Musik!' - Was man hier zu hören bekommt, kann man wirklich nur mit 'ansteckend' beschreiben, und schlecht gelaunt kommt man aus dieser Nummer ganz bestimmt nicht raus." BBS (12/15)
"Sixteen slices with Papa duPau and Spazzfrica Ehd unleash full sonic flow, a musical stream that has been halfway around the world with its juggernaut pace. Making sense of the chaos." ROCKDELUX
"Die Musik von ZA! indiziert maßlose Unterforderung. Wo andere Bands aus fünf Leuten bestehen und eine Idee in drei Minuten ausformulieren, sind hier zwei Katalanen am Start, die klingen wie mindestens drei Mal so viel und die in ihren Songs nicht eine Idee unterbringen, sondern so ca. hundert. Definitiv einzigartig." VICE
"They even dare to declare to your face the influence of A Tribe Called Quest and all this incredibly makes sense." THE EARL TIMES
"Bei ZA! ist nicht nur jedwede Paarung möglich, sie klingt auch noch höchst kunstvoll und mitreißend." TAZ
"A choreography of bare wires. This time, the duo's unclassifiable underground-rock is more international - an act of liberation joining experimental free jazz, post-rock with digital satanismos, happy hardcore with avant-pop from the machine." NOTODO
"Verrücktes Zeug." NEOLYD