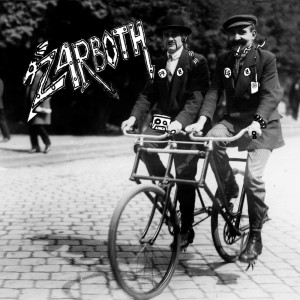 ZARBOTH
Zarboth
Feb 27th 2009 | DISREC10 | CD/DL


---
Info
01 Addict
02 Wilderness
03 Argue
04 Dieceptev
05 Overtones
06 Never Turn
07 Hear Me
08 Realize
GET READY FOR THE SONS OF ZARBOTH !!!!
Rising from the [un]sophisticated underground of Paris, Zarboth began after a chance meeting between Etienne Gaillochet [We Insist !] and Phil Reptil [La Theory du Reptil] in 2007 whilst on a [surely...?] fascinating educational outing. After forming an instant bond of friendship, the two realised they had known of each others musical projects for years but had never met.
They immediately decided to get together for a jam, and blindly stumbled together into a project full of twisted rhythms, beautiful yelling and playful staccati, giving birth to a union of experimental rock, jazz & metal brimming with old-school punk attitude.
Phil Reptil had a longterm project called "La Theory du Reptil" releasing an album in 1998 on Pee Wee Records. Also writing and performing in various projects throughout the past 15 years from electronic music to experimental, pop, rock or world music, Phil is often requested by other bands and artists for his laptop skills creating experimental sounds and samples. However, his heavy-ass bass-crunching earth-shattering sound for Zarboth is created by playing a 7-sting baritone guitar through a bass amp for a tone that makes bass players lose sleep at the thought of becoming obsolete.
Etienne Gaillochet has been the drummer/vocalist & driving force of Paris' own WE INSIST ! for the past 13 years. With a particular fascination towards odd time-signatures and dischordant melodies ranging in style from metal or jazz to classical, Etienne brings his trademark solid, yet experimental, percussion skills to Zarboth. Having released 4 albums so far with We Insist !, he has toured extensively throughout Europe and will continue to do so throughout 2009 including Exile On Mainstream's own "BLISSTRAIN" tour with OSTINATO, BULBUL, BEEHOOVER and THE ANTIKAROSHI in March.
Signed to Exile on Mainstream/Southern Records, We Insist ! will release their new album in May 2009. The self-titled debut album from Zarboth sees Dresden's DISCORPORATE RECORDS and EXILE ON MAINSTREAM RECORDS join forces in East Germany for the release with distribution through Soulfood. East Germany has become a very special place for Zarboth, as well as any band that has ever been involved with these labels, and has been proudly adopted as honorary citizens and a second home in their hearts. Nevertheless, Zarboth is first and foremost a French band, and the album will see a release in France through the excellent independent label HEAD RECORDS (Goodbye Diana, Pneu, Superbeatnik).
ZARBOTH: It's a free-noise-metal-jazz mix of whatever; it's whenever; it's cities, fields, rain, shoes, sun, water, laughter, east, yeast, night, love, Paris, German beer, cigarettes from anywhere; everywhere; friends, and from Pantera to Bill Frisell then beyond…
Yes, dear people! Another crazy duo, and a HELLA lot of fun!
Videos