DISCOFEST #666 – ALL YOU NEED TO KNOW
06.06.2015 – Scheune Dresden
Info/Tickets www.discorporatefestival.com
Festivalsampler http://discorporate.bandcamp.com/666-sampler
Event www.facebook.com/events/821919891195479
Video https://youtu.be/jvLVURTxQoQ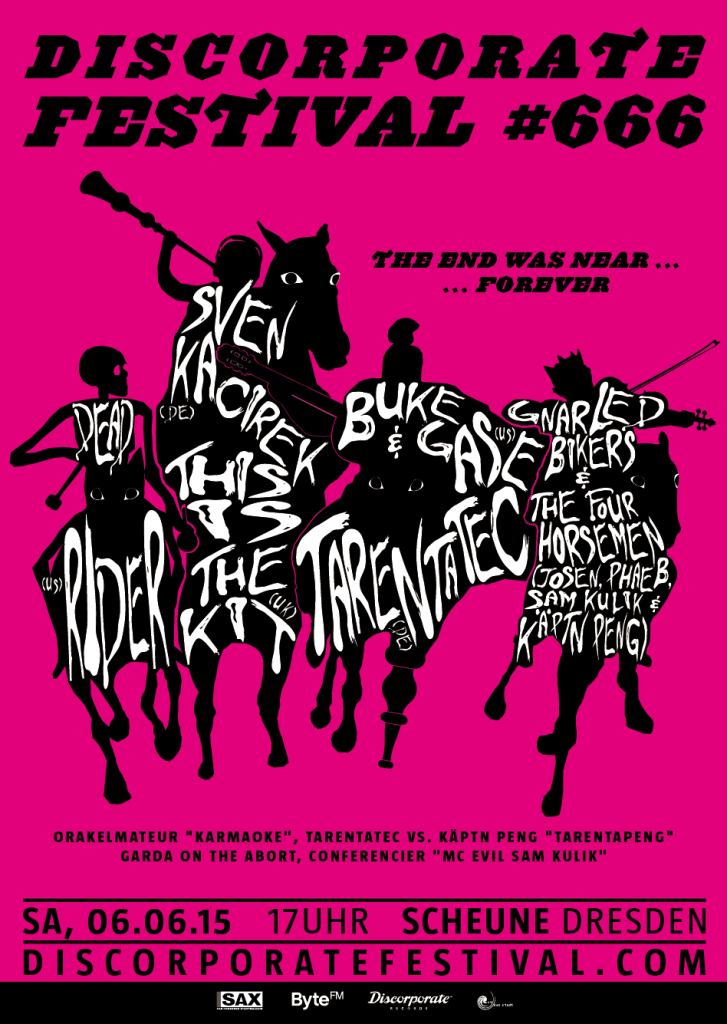 Flyer by Thomas Adler
DISCORPORATE FESTIVAL (2013 AFTERMOVIE)
Better late than never, the Official Aftermovie of the last fest… please go to our NEW SITE at discorporatefestival.com for the 2015 festival.
REASONS
Hey people!
Since I promised to provide proper reasons for the death/hiatus of Discorporate Records (as we know it), I realized… I never did it. Sorry for that. And because I don't want to write another novel about it, here's an edited excerpt of an email I wrote to a band some days ago, that probably gives a little insight about how things developed…
"[…] I called it hiatus some months ago because of various reasons… neither because of money problems nor notorious failure (although continious self-exploitation is a big factor here)… on one side I didn't see myself staring at a computer 12 hours a day anymore or run after an industry-ideal by becoming Pitchfork-darlings, on the other hand I didn't want our sensitive collective to be destroyed by an over-/under-organized (but also abstruse and vain) sullen control-freak (= me). I'm not a visionary, in the truest sense of the word. Our little world is hidden by so many codes and very hard to be transcended into the world of media and conservation. Our bands are free minds, naive and deficient in a wonderful way and I couldn't find a key to make this a business – besides that, the genre which we are known for (noise, do-or-die-experimental) is not necessarily the music I listen to anymore. Bottom line: I didn't want us to become cynical and find ourselves in 20 years with jeans-jackets doing the same things all over again and sucking our own blood. Blablablabla… […]
So, right now I'm 'working' for a German hip-hop-label, doing little PR and soon some A&R… most of time I'm working in a music-club or I'm on the road with various bands, doing lights. Somehow enjoying to be a service provider… and most importantly… being able to be friends with our musicians without having to talk about music, business and who's fault it is that we're not entering the billboard charts. There are still some bands on Discorporate that I told I wouldn't let them down, if they want to release a record (as long as they don't feel the need to become famous or rich, because that's not what I'm here for)… […]"
Enjoy this very nice summer… and see you on the road!
Johannes
ANNOUNCEMENT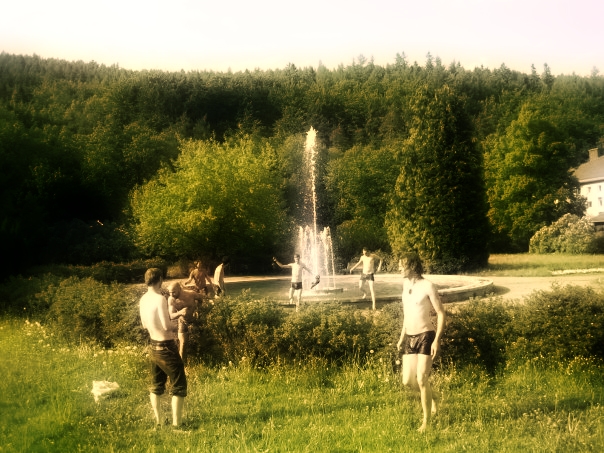 Discorporate Records will make an indefinite hiatus and maybe never really work as an operating fulltime-label anymore. This doesn't mean the end of this circle of friends and likeminded artists, but we won't put out any records (with the exception of little editions that don't need major pr or distribution) or run after a stupid music business ideal anymore. We just push the reset-button and see what happens. Watch out for a bigger announcement soon, that hopefully provides some of the (manifold) reasons of this rather drastic step.
This also means: No Discorporate Festival in 2014. Sorry, dudes.
P.S.: We're fine, healthy and full of hope… happy holidays!
__________________________________________
ANKÜNDIGUNG:
DISCORPORATE RECORDS wird sich unbefristet aus dem Labelgeschäft zurückziehen und unter Umständen nie wieder als voll-operiende Plattenfirma fungieren. Dies ist nicht das Ende dieses Freundeskreises oder Brustätte gleichgesinnter Wahnsinniger, aber wir werden vorerst keine Platten mehr rausbringen (mit etwaigen Ausnahmen in Form von Liebhaber-Editionen, die ohne PR und Vertrieb auskommen) oder einem falschen Ideal eines Musikbusiness hinterherrennen. Wir resetten uns und schauen in welcher Form wir uns wiederfinden. Bald kommt noch eine größere Ankündigung, die hoffentlich auch ein paar (der vielen) Gründe für diesen drastischen Schritt liefert.
Dies bedeutet leider auch, dass es 2014 kein Discorporate Festival geben wird. Tut uns leid, Freunde.
P.S.: Es geht uns gut, wir sind gesund und voller Hoffnung… frohe Feiertage!