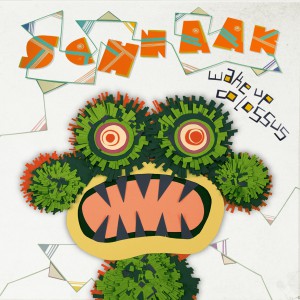 SCHNAAK
Wake up Colossus
May 13th 2011 | DISREC17 | CD/LP/DL



---
---
Info
01 birds and grains
02 whoop whoop
03 this is life bubbly hog
04 tiki
05 knuus
06 my robot garden
07 herero
08 ping pong miracle
09 it could be nicer being red
10 tigrillo and the cheese fly
Two tip-toe sounds from afar in the dark, where everything springs to life, into light and day… whilst smashing buckets, beeping mouths.
It's been a while now for SchnAAk to evolve from furry factory noise sessions of songs they smashed in the faces of bewildered people for one year solid while releasing two acclaimed EP's. Initially they rubbed faces in persistence that said "Get used to it!"
After several excursions through Europe, Africa and the United States SchnAAk has lived up and loves weird hip-hop beats, parallel comic-art universes and stylish African rhythms, though still working deep down in a factory of cosmic noise, but adjusting their machines nicely to sing along. You've heard right: Sing along! Wake up Colossus!
The bucket has been proper band member since the first day, comfortably embedded amongst the two. The two with the four arms: two that stroke the wire, the other holding the wood. They make fire from amplifiers. They know how to do that, because they are smart… and they cook human flesh over it, nicely. It's just two guys from Berlin who are connecting this gathering of frequencies and toys with impressive musicality – heartfelt musicality that never slips over the song itself or the naive joy of this music.
On Wake up Colossus remodeled instruments and weird sounds blend together in superorganic new pop music with focus on songwriting, way-out grooves and odd hooks. If we were to invent genres we might call this "transcendentally fertilized new machinery pop". Gabbling guitar sounds and infantile voice rapidly transforms into a humming train squeaking all along its tracks. Spot on percussion articulated on buckets, various metal pieces, plastic clappers, xylophones, congas, bells as well as 'regular drums'. They perfectly groove on, off, lean, bearing with the estranged guitar and the buttons connected to it. SchnAAk walk in new territory and they make it completely their own.
Kudos
Recorded in the Boom Boom Room with Tino Bensing
Strings and woodwinds recorded at Festspielhaus Hellerau
Videos