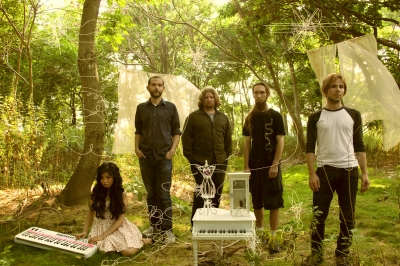 KAYO DOT (New York, Hydrahead) is one of the leading avantgarde-bands of this planet. They will come on tour in Europe the next weeks.
What do these news have to do with Discorporate?
Well, our little JOSEN (drummer of such bands like Schnaak, Tarentatec or Osis Krull) plays the drums in that band on this tour. Which is awesome, if you ask us. Besides that our little brothers and sisters of EINE WELT AUS HACK have booked parts of this nicelooking tour. Don't miss this tremendous ensemble while they hit your town.
26Jan: CZ, Praha @ K4 Students Club
27Jan: PL, Warsaw @ Powikszenie
28Jan: PL, Wroclav @ Firlej
29Jan: PL, Krakow @ Klub Re
30Jan: SK, Kosice @ Tabacka
31Jan: SK, Zilina @ Stanica
01Feb: HU, Szeged @ garabonczias
02Feb: AT, Vienna @ Rhiz
03Feb: SL, Ljubljana @ Channel0
04Feb: SR, Belgrade @ Akademija
05Feb: CR, Zagreb @ Kset
06Feb: AT, Linz @ Stadtwerkstatt
07Feb: DE, Wurzburg @ Cafe Cairo
08Feb: DE, Dresden @ Beatpol
09Feb: DE, Leipzig @ Conne Island
10Feb: DE, Jena @ Kassablanca
11Feb: DE, Darmstadt @ Oettinger Villa
12Feb: BL, Brussels @ Magasin 4
13Feb: UK, Brighton @Hector's House
14Feb: UK, Bristol @ tba
15Feb: UK, London @ Vortex
16Feb: UK, Birmingham @ Hare and Hounds
17Feb: UK, Manchester @ Islington Mill
18Feb: UK, Leeds @ The Well
19Feb: BL, Liege @ Carlo Levi
20Feb: DE, Berlin @ Levee